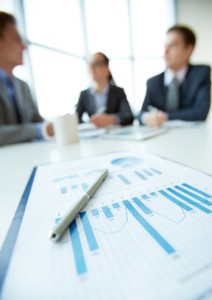 While financial projections are extremely important for allocating capital resources, they are by no means an exact science. Nonetheless, there are five apps that can help you plan effectively for your company's financial future:
Though the price tag seems exorbitant, there is a medium-priced deal available that will only set you back $399. With this package, you'll have: an unlimited number of projections; more than 20 standard forecasting methods and options to create custom methods; budget and forecast for up to 10 years; and even the ability to forecast based on more than just your personal and business data. There are also a variety of add-ons if you want advanced reporting.
LivePlan enables you to make financial projects; share business plans among interested parties with ease, and design smart presentations choosing from an infinite number of industry-specific business templates. Another notable feature is that as your financial information changes and evolves, the software will compare projections with updated data in order to determine how your current progress matches up to your business plan projections.
Adaptive Insights is the preferred choice of the Mayo Clinic and AAA. It allows you to make financial projections with various pre-programmed models. You can also design a variety of reports, formulate a loan amortization sheet for debt calculations, develop your own multi-dimensional forecasting model, and test various possible scenarios to determine how they impact the financial stability of your business. There really seems to be no limit to what this app can do for you, as it even integrates seamlessly with Salesforce (industry-leading CRM), Word, PowerPoint and Excel. This means that you'll have more information for basing calculations and projections and you'll be able to import all of this information to create an engaging PowerPoint presentation or plan for both investors and lenders.
This tool was intended for personal finances. However, over time it has seen an increase in use by business owners who utilize it for financial projects and bank balances. PocketSmith will allow you to import your bank accounts, project your bank balances with a 30-year perspective, establish budgets according to your finances, and develop what-if scenarios to determine how they will affect your finances.
This software was designed with professional and polished charts and projections in mind. It enables you to create a variety of charts, graphs, and projections with a three-year horizon, based on your current and estimated financials. It will also create an Excel file of the projection that you can download and include in your business presentation or plan.
For assistance installing these apps or to learn more about how you can help your business maintain growth through effective financial planning, give us a call at (604) 986-8170 or send us an email: info@compunet.ca.