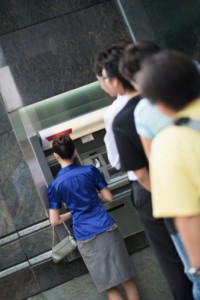 We'd like to warn you that there is a new malware recently developed, known as Tyupkin, that's stealing straight from the source. Surely you've heard of cybercriminals using "skimmers" to read victims' cards and save their numbers and pin codes to turn into counterfeit copies. Well, this new technology allows for cybercriminals to cut out the middle man and steal right from the banks – landing them an easier way to avoid detection and hide from the law.
This malware can detect the amount of money that is on each cash cassette – it makes it easier for the cybercriminals to decide whether an ATM is worth hacking into or not. The developers of this malware use "money mules" to take all the risk. They set a price at $5,000 for the malware and then take 40% of the cash taken from the ATM's from their clients.
The "money mules" need access to the back of the ATM in order to leverage Tyupkin. Once they have access, they use a card activated with an attack code to infiltrate the ATM, and after the malware is loaded, an "out of service" message appears to ward off users from taking any money off the cash cassettes.
Do you need to worry about ATM malware?
The simple answer: Of course you do. Investigators have noticed a pattern for the use of the malware. It is usually only at specific times of the night and only on certain days of the week: Sundays and Mondays. The ATM's armed without secure alarms are the ones being infected, so an easy way to avoid these attacks is for banks to jack up security on the ATM's and eliminate the use of master keys.
Technology is constantly being used to provide cybercriminals with easier ways to cut down on risks and increase the amounts taken, and with malware and ransomware, some cybercriminals don't even have to leave the comfort of their homes to put your livelihood into jeopardy.
You must be aware of the risks, because after all, it's your money that's on the line – and we all know our money is our livelihood. Make sure you're fully up-to-date on the latest threats.
Compunet InfoTech stays up-to-date with every new threat because we aim to safeguard your business from internal and external threats with multiple layers of comprehensive security.
You can fill out the form, contact (604) 986-8170 or send us an email at info@compunet.ca to speak with one of our IT professionals now.