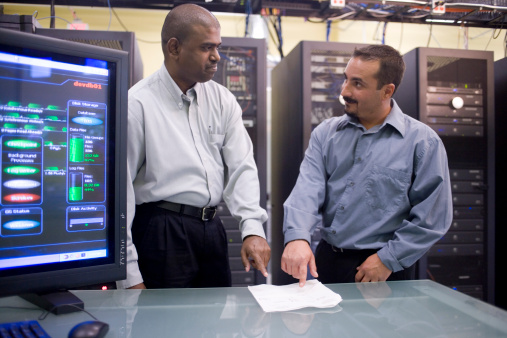 We don't bill you for work that is our responsibility. We offer plans for an hourly fee or managed IT services for a flat-rate fee, so you can choose what works best for you. Ready to stop paying by the hour? Give us a call at (604) 986-8170 or send us an email at info@compunet.ca to learn more about our managed IT services.
While some IT providers charge you by the hour, Compunet InfoTech offers custom services to handle your IT systems at an affordable, flat-rate fee; so you can rest assured knowing your IT systems will be up and running at all times without the hassle of hourly charges and surprise invoices. Our technicians won't come into your workplace, interrupt your employees, and send you a bill for it. When we visit your office, we visit at a time that works best for your staff, whether you've chosen an hourly plan or a managed IT services package.
Interested in faster performance, fewer issues, and minimal downtime? Our managed IT services deliver the results you deserve, at an affordable, flat-rate fee.
We take a proactive approach to your IT systems. Our managed IT services ensure your IT systems are up and running with maximum performance, speed, and reliability. In addition, you can avoid expensive onsite visits while receiving faster support. Our remote support enables you to receive support for network issues immediately. No more waiting on a computer support technician to show up, disrupt you, and charge you for it.
We also monitor your hardware on a regular basis, so you can plan for upgrades and replacements according to your budget. This helps you avoid expensive and stressful purchases when your hardware fails.
Do You Want All the Benefits of an In-House IT Department – Without the Expensive Costs? Compunet InfoTech is Here to Handle All of Your IT Needs!
Our managed IT services enable you to access our knowledgeable support staff at any time. We're here to handle all of your IT needs at an affordable, flat-rate fee. Stop paying for IT support by the hour and make the switch to managed IT services! Contact us to learn more about our managed IT services.
Call (604) 986-8170 or email us at info@compunet.ca to learn more about our IT services, helping businesses in Vancouver.
Performance-driven professional with 20+ year record of demonstrated success driving significant growth in sales and revenue for products and services. Identify market needs and implement innovative strategies to capture new business. Engaging and articulate presenter with a talent for delivering winning product and sales presentations to a diverse client base.