Blackberry's KEYone represents a bold move by the Canadian company to revamp its brand, but does the new $549 Android-based smartphone make sense for your small business?
While BlackBerry used to be the gold standard for business phone solutions, the rise of Apple and Android's smartphones placed a large dent in its market share. However, the recently-announced BlackBerry KEYone has the potential to signal a comeback for the Canadian company. BlackBerry's newest offering comes with different manufacturing as well as licensing agreements in an attempt to revamp the brand. With a price tag of $549, will the BlackBerry KEYone make sense for your small business?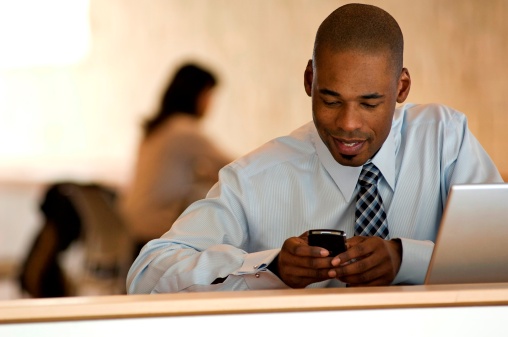 Let's look at the KEYone's key features. The exterior of the phone is slightly different than previous BlackBerry models, with an anodized aluminum frame and a textured soft-touch back. Inside, the phone features a fairly powerful CPU: Qualcomm's 2-GHz Snapdragon equipped with 3GB of RAM. The KEYone comes with 32GB of memory, which will be ungradable with a hot-swappable 2TB microSD card. Battery-wise, BlackBerry boasts that the KEYone will include their biggest battery ever; the non-removable 3505 mAh battery will be able to charge to 50 percent in approximately 35 minutes. With a 4.5-inch screen made of scratch resistant Gorilla Glass and a resolution of 1620 x 1080, the KEYone is also outfitted with a 12-megapixel rear-mounted camera.
However, the KEYone's keyboard is likely to attract the most attention. With its latest offering, BlackBerry has brought back its traditional physical QWERTY keyboard with added features. Besides typing, you can now use the KEYone's keyboard as a touch sensitive control pad; for example, you can use this touch sensitivity to easily scroll down and up as you read an e-mail or browse a webpage. The keyboard has also been upgraded to make it programmable with as many as 52 shortcuts. For example, you can have "I" open your inbox or "U" bring up the Uber app.
Because the KEYone is Android-based, users will have complete access to Google Play for apps, while the phone still comes equipped with the messaging service BlackBerry Hub. One particularly nice feature for business users is the fact that the KEYone is based in Android 7.0 Nougat with BlackBerry's Security software.
With all that being said, will the BlackBerry KEYone make sense for your small business? The answer is a solid maybe. The physical keyboard does offer a lot of advantages over virtual keyboards on other smartphones, particularly for those employees who need to type a lot while on the go. With its Android-based operating system, the KEYone has the potential to be a more solid business device than past BlackBerry offerings. However, at $549, the KEYone is on the pricer end of the smartphone range. In any case, if you're considering upgrading or changing your company's mobile system, the BlackBerry KEYone is certainly a device you should consider.
Need help figuring out the correct mobile solution for your business? Compunet InfoTech can help you evaluate your options to find the best choice for your employee's needs. Contact us today at (604) 986-8170 or info@compunet.ca to learn more.