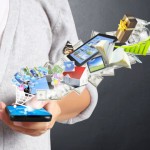 Modern technologies have become an integral part of our lives – helping us communicate, learn, and do business. As you've likely noticed, technology advances fast – from self-driving vehicles to wearable technology, here are the top 5 emerging tech-trends in life and business:
Wearable technology going above and beyond fitness trackers:
Wearable technology started with allowing people to monitor their health, set goals, and track daily fitness results, but now wearable technology has gone a few steps further: 'smart' clothing, 3D printed accessories, and the world's first 'smart band-aid' designed to fight against ebola, and even the concept of a future wearable drone has been talked about!
Self-driving vehicles and connected cars:
In the future, we'll see futuristic self-driving vehicles and connected cars that are able to predict traffic patterns and safety concerns through sophisticated data analytics. There's been significant progress when it comes to self-driving vehicles. In fact, an automotive supplier, Delphi, sent a self-driving car 3,500 miles coast-to-coast between March to April, in order to test the cars capabilities.
Powerful video live streaming apps:
Meerkat, a live-streaming platform, allows users to broadcast experiences and events for others to view in real-time. Other similar apps include Teleparty and Periscope, which is still in beta; however, these two apps will also be powerful to help remote viewers stay connected.
Robots of various capabilities and sizes:
Robotics, a tech trend you've likely heard about before, is a rapidly advancing field. In fact, the field of robotics can lead to breakthroughs in scientific exploration, disaster-relief, and much more.
Connected and 'smart' technologies/the Internet of Things:
As virtually every industry is starting to see a range of connected and 'smart' technologies, we're noticing the Internet of Things becoming more prevalent than ever before. The amount of physical objects featuring network connectivity to send and receive data is huge – from televisions to fridges to cars, the physical world is essentially becoming one giant information system.
Interested in learning more about these exciting tech trends that are guaranteed to change the way we live and do business? Contact Compunet InfoTech at (604) 986-8170 or send us an email: info@compunet.ca.