Many businesses gather and utilize customer feedback in their business strategy to ensure the products and services they produce meet their customers' needs. Integrating customer feedback helps with client communications and management, and in developing better products and services at the same time. We've identified three main ways to gather client feedback from your website visitors, email, of course, being a main method for gathering data on the customer experience. And, although it's an immensely valuable method of securing honest feedback from customers, many organizations neglect to consider the customer experience when designing email channels. There are three things you should take into consideration when communicating with customers via email:
Ensure you respond to customers in a speedy fashion. A recent study found that 81% of customers would be more likely to leave feedback if they thought they would get a rapid response.
Develop an organized system by which customer feedback is handled. Keep track of what feedback you have received and from whom you received it, and use this information to guide future customer interactions.
Follow up on all correspondence in an honest and open manner. Surveys are very challenging to develop; however, they can provide extremely useful insights. Test long and short surveys to find out which are the most effective in providing the feedback you need. Tools like Qualaroo are great for short surveys, while Survey Monkey is ideal for longer questionnaires.
Further Customer Feedback Methods
Customer interviews provide direct feedback from your customers and allow you to develop a more personal relationship with them. When planning the customer interview process, it can be useful to focus on user attitudes toward the problems they typically encounter and employ a critical incident method to encourage customers to recall specific problems.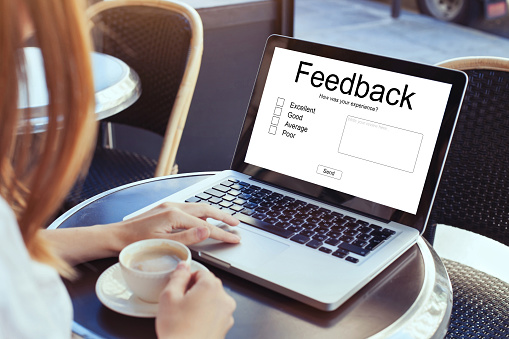 To quote Justin Wilcox, writing in an April 2016 article for CustomerDevLabs.com,
"Instead of being stressed about what the customer is going to think about my idea, instead of fumbling over my words and worrying about the perfect way to pitch my product, a customer interview isn't about me, my product, or my words. It's about theirs. All I have to do is listen. No pitching, no negotiating, just ask a handful of questions with a sincere interest to learn."
HelpScout.net has a helpful article on the subject entitled, "The 7 Best Ways to Gather Customer Feedback". Besides those we already mentioned, its list includes such avant-garde customer feedback methods as:
Usability Tests
Exploratory Customer Interviews
Social Listening
On-site Activity (via Analytics), and
Comment Boxes
That should give you a lot of food for thought on how to get your own customer feedback system up and running as part of better customer communications management (CCM) and optimizing your overall customer experience (CX).
If you have any further questions on the subject, customer relationship management (CRM) and CCM specialists at Compunet InfoTech can help you. Just call us at (604) 986-8170 , or email us at info@compunet.ca for more information.