Overlooking Printer Security Is Costly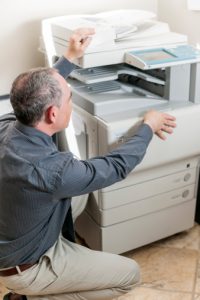 It may not be as high-profile a part of your data network infrastructure, but printers are a viable security threat, if access and permissions are not iron-clad. This may come as a surprising wake-up call to many people, who have taken for granted that printers aren't as security-vulnerable as other parts of IT networks, but the vulnerability is there nonetheless. It's another unfortunate fact of doing business on an IT infrastructure that needs constant attention by a managed services provider, that a printer can provide just the right access point for hackers to be able to gain entry into your network and sensitive data files.
The Digital Threat
Securing printers – both digitally and physically – should be put on the to-do list of any company doing any substantive amount of business at all. And, although the new-generation HP printers come with all-new built-in security features, IT departments can't be overly-cognizant of any missteps that could open cracks for cyberattacks and hacker infiltration. A sobering 2015 HP report states that, "64% of IT managers state their printers are likely infected with malware." And, it's not just an opening into the greater network that an unsecured printer can act as. A question in the HP report asks, "Can They See What You Print?" with the likely answer being "Yes" for those without the wing-ding new security features like HP Sure Start. Shock and horror may rise up within those who have routinely printed out sensitive, proprietary docs on a wide-open printer.
Physical Data and Printer Security
It's not just cyber threats that unsecured printers welcome. While the dangers of overlooking physical data security such as with printers haven't hit home for most of us, there is enough of a clear and present danger having to do with the actual printed-out data to motivate the thorough-minded to make sure their IT department manager turns both physical and non-physical data into a non-issue. An article in Market Wired from last month shows us that statistics don't lie. The article, based on a Shred-It company white paper and entitled, "Shred-it Exposes Dangers of Overlooking Physical Data Security," says that "Data leaks can result in potentially huge losses, as over 20% of fraud cases involve losses equivalent to at least S$1.37 million (Source: ACFE 2016 Report to the Nations on Occupational Fraud and Abuse). It goes on to say that "most fraud incidents reported (58%) are perpetrated by employees". It describes in further detail how in one case a cleaning lady unwittingly gave over to a recycler company data that included trade secrets found on printouts. Is your company properly shredding its documents and printouts?
Combatting Vulnerabilities
HP security management software presents full risk-management in its new rollout of printer data security. It looks at the device, data, and documents, as well as the incoming and outgoing data traveling around IT networks. Data encryption at the printer level is a must-have for really any SME, LLC, or larger corporation – even sole proprietors handling exploitable data. HP offers a free printer assessment, so reaching out to them at 1-800-800-0014 is a good first step.
For printer security breaches and assessment, you can also call in the IT experts who know every vulnerability along the IT line, including printer data and document security solutions. Compunet InfoTech is the leader in providing managed IT services in Vancouver. Contact our expert IT staff at (604) 986-8170 or send us an email at info@compunet.ca, and we will be happy to answer your questions.